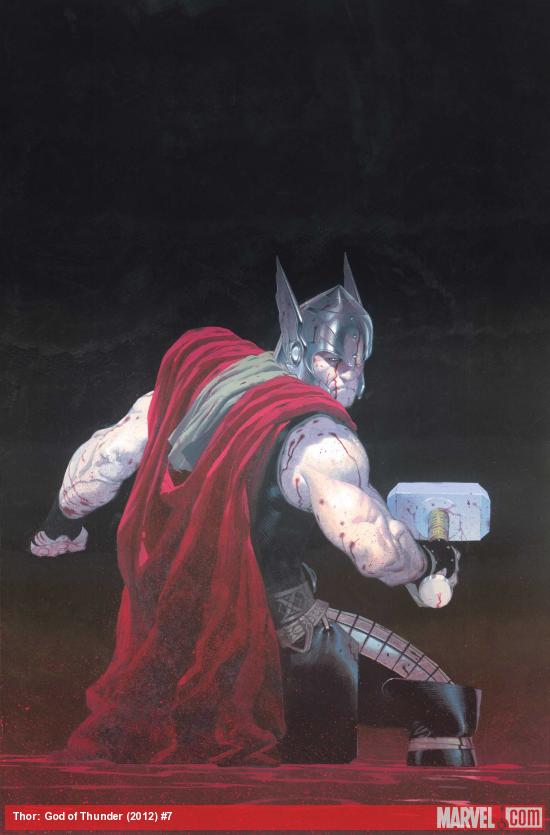 Thor: God of Thunder #7
writer: Jason Aaron
artist: Esad Ribic
Part 1 of Godbomb. The godkiller, Gorr, is creating a giant, god-killing bomb. I guess he was tired of hacking down one god at a time. He truly is taking the villainous and cowardly way out.
This was a fantastic issue. I really enjoyed the interactions between young Thor and old Thor as they will need to team up in order to take down Gorr. Old Thor has had one heck of a life and it was fascinating to hear him briefly recount some of his crazy past moments that have yet to come for young Thor. I liked how the two of them are the same person but with slightly different demeanor and personality due to experiences had and not had but the core of who Thor is shined through in both gods.
Old Thor, or as we fondly refer to him on this show as "Thodin", has a big break come through. For centuries, Gorr's mad hounds had clouded and caged over Asgard so that Thodin thought he would die a prisoner on the throne as the last god standing. But with the arrival of young Thor, it seems the skies have cleared up and the two Thor's are taking this opportunity, even if it could be a trap, to take charge and bring one last fight to Gorr.
The librarian who presides over all the records of everything in the universe is trying to sort through what he can from his own last encounter with Gorr and there in the library, a god, in a very cowardly fashion, reveals how he has helped Gorr to create a bomb to kill all gods because as he sees it, it's all pointless to fight Gorr anyway. Oh, the drama!
Time traveling can turn really convoluted and confusing but everything in this series has been laid out so clearly from the get-go, that it's easy to understand and enjoyable learning the different plot points that happen throughout times that are integral to this story-arc.
I think Esad Ribic did fantastic work, once again. His art is consistent, clear and just plain lovely to look at. Top-notch work all around. This is a great book.
-O.Pelaez